Malay (Bahasa Melayu) is the language of the Malays of the Malay Peninsula. It is used as an official language in Indonesia, Malaysia, Brunei, and Singapore. Malaysian and Indonesian consider their language to be different from each other, as they regard themselves as separate ethnic groups. However, other countries often consider them as the same language, calling it 'Malay-Indonesian' or 'Malay', as mutual communication is possible between these two languages, linguistic differences are not large, and Malaysia and Indonesia compile the official dictionary together.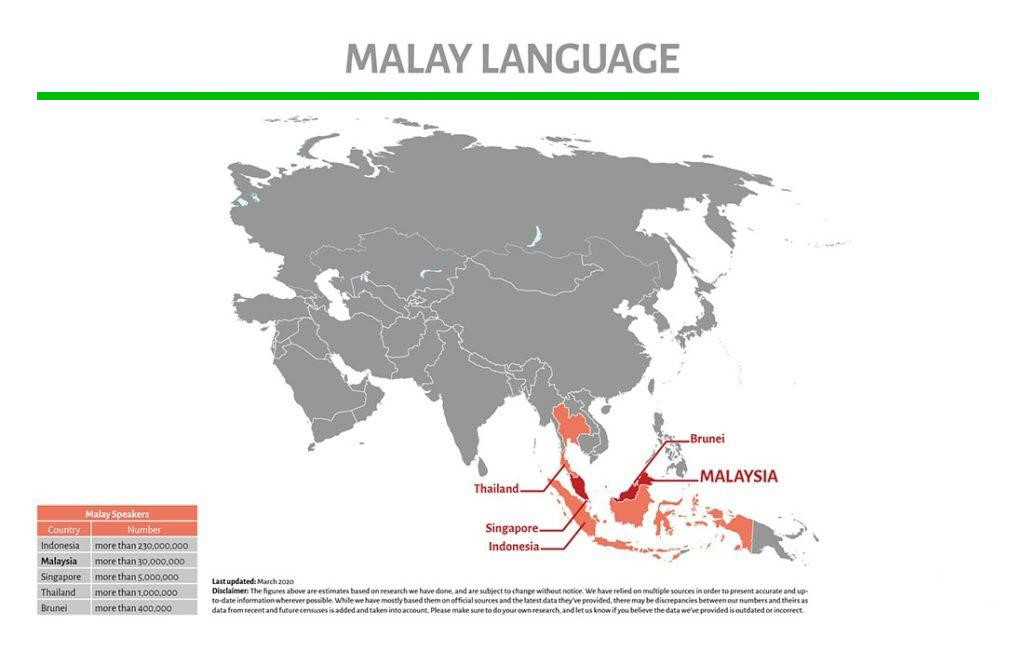 The Malay Media Scene
In Malaysia, 99% of households, including remote and rural areas, watch TV, as Malaysia has excellent infrastructure for receiving TV broadcasts. In addition, 95.5% of the population in Malaysia has access to the internet and their average income level is high. These conditions made Malaysia one of the largest OTT markets in Southeast Asia. By the virtue of such infrastructures and low government regulations, Malaysia is playing the role of a Southeast Asian hub for OTT companies along with Singapore.

In Malaysia, there has been a movement of cord-cutting (a phenomenon in which pay TV viewers cancel cable TV subscriptions and move to new Internet-based platforms such as IPTV and OTT) since 2018. This movement has grown exponentially with the recent COVID-19 pandemic. In Malaysia's OTT market, Netflix has the largest market share, followed by Hong Kong's Viu. Recently, Chinese OTT platforms are actively expanding their operation in the Malay market.

China's OTT (iQiyi, Wei TV) is increasing its market share significantly in a short period of time by actively utilizing an ad-type free platform (Freemiun) that allows users to view contents for free when watching an ad. The number of monthly active user has reached 10 million in 2021. As such, ad-free platforms that allow users to watch content without paying a monthly subscription fee are now gaining popularity in Malaysia and Southeast Asia.

As a multi-ethnic country, Malaysia broadcasts in several languages. In addition, the main broadcasting language for each terrestrial channel is fixed, and contents tailored to the culture of the language user are intensively broadcasted. When contents are in Chinese, Hindi, Tamil, and Cantonese, not Malay, the most commonly used language, it is difficult to secure profitability through self-production and broadcasting in Malaysia. Accordingly, for those languages, contents are imported from the countries using such languages to be broadcasted.

Malaysia is rated as having relatively superior capability to produce video contents, including animation, in Southeast Asia. In addition to Western OTT operators, OTT operators specialized in Asian regions, such as Viu and iflix in Hong Kong, are placing production orders, recognizing the competitiveness of Malaysian studios. Malaysia's Double Vision studio produced seasons 1 and 2 of the popular action drama "The Bridge" for Viu and HBO Go. The <The Bridge> series has established itself as the most popular program on the Viu platform (when excluding Korean contents), and is also gaining popularity in Singapore and Indonesia through Viu and HBO. Netflix is also producing the original series through Malaysian Productions. Starting with the stand-up comedy series of <Dr. Jason Leong> and <Harith Iskander> in 2018, Netflix produced the drama <The Ghost Bride> in 2020. Netflix is also seeking to strengthen its competitiveness by acquiring original contents in Malaysia. For example, the movie <Paskal: The Movie> and the movie <Pasal Kau!> were screened exclusively on Netflix.
The complexity of Vietnamese translation
1. The written language > Translation Service
Agglutinative language:

Agglutinative language: Since Malay was the official language for trade, it has the simplest grammar among Austronesian languages. In addition to the simplicity of grammar, as a communication language, the phonological structure is simple, the written characters are Latin characters, and the grammar (e.g., affixes) is not strictly followed in elementary and intermediate conversations. However, since Malay is an agglutinative language, as it goes to a more advanced level, it presents more difficult grammatical elements (such as suffixes, suffixes, etc.), which are essential to speak like a native speaker. To make a good sentence in Malay, it is necessary to perfectly reflect these grammatical elements in translation.



Writing system:

Malay is written in Latin and Arabic characters. If it is written in Latin, it is called Rumi, and if it is written in Arabic, it is called Jawi. Jawi was created by the Malay-speaking Muslims of Nusantara, who used the Arabic script, and Rumi was established during the process of domination by Western powers. In the case of Malaysia, they originally used Jawi, but the British colonial government started to use the Za'aba spelling system, and Indonesia originally used rum, but they started to use Soewandi later, which was adapted from van Ophuijsen brought by the Dutch colonial government. However, there was a significant difference between the two spelling methods, which caused considerable inconvenience. To address this issue, in 1972, the two countries agreed to enact the so-called Malindo (EYD; Ejaan Yang Disempurnakan) spelling law, which is still present today. While this law is strictly followed in Malaysia, some people in Indonesia do not follow this and still use Suwandi.
2. The spoken language > Media Service
To non-native speakers, the two languages may seem the same, but native speakers notice the difference in both pronunciation, intonation, and words. This phenomenon is affecting the broadcasting industry with respect to foreign language subtitles for DVD movies and cable TV. Media content providers provide both Indonesian and Malay subtitles to enable more viewers to enjoy their content. In addition, oftentimes, for Indonesian sinetrons (TV dramas) broadcast in Malaysia, Malay subtitles are provided, and, for Malay dramas aired on Indonesian TV, Indonesian subtitles are provided.
Facts that affect Vietnamese to English and other languages translation: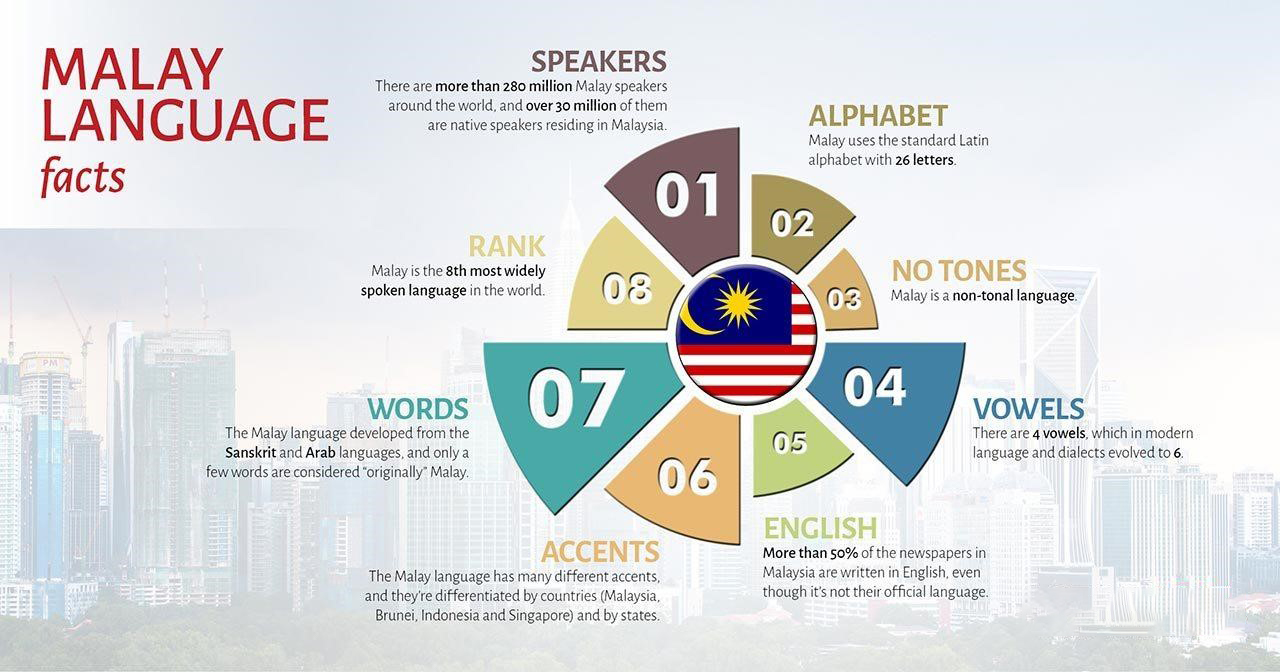 1-StopMedia's solution for you
At 1-StopMedia we believe that sharing our experience with our clients and partners is an essential part of delivering the services your company needs. We branched out from 1-StopAsia with the single purpose of concentrating on improving our media translation services and creating a flawless and tailored solution for LSPs and large business companies that require media services for Asian languages.

As Bahasa Malaysia is similar to Bahasa Indonesian, there are occasionally cases where local Indonesian translators translate Bahasa Malaysia as well. Of course, their translation is not completely wrong, but there is a clear difference between the two languages. Therefore, a local translator who speaks Bahasa Indonesian should translate Bahasa Indonesian, and a local translator who speaks Bahasa Malaysia should translate Bahasa Malaysia. 1-StopMedia has many years of Bahasa Malaysia translation experience and has a large pool of local Bahasa Malaysia translators with ample translation experience and excellent quality.

Drawing from over 20 years of experience, we benefit from the skillful and accurate translators we have and at the same time fit our process to match your workflow and requirements. Our project managers are experienced in working with Asian languages, work as per ISO 17100 and ISO 9001 and at the same time can advise you on the type of services your company needs.